WELCOME TO THE CHATEAU DE BOURBON
The name Bourbon comes from Borvo, the Celtic God of Minerals and healing deity associated with bubbling spring water.
In the Middle Ages, the main name worn by the lords of Bourbon, Archambaud (Arkimbaldus in latin) was added to Borvo. These lords were the ancestors of every member of the Bourbon family.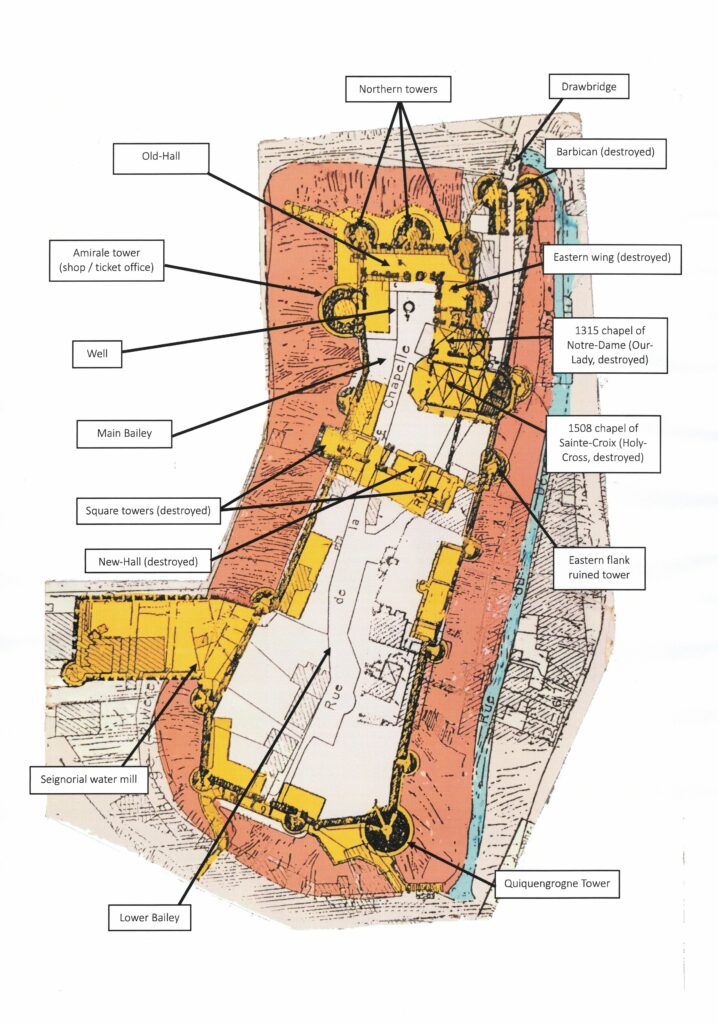 The castle of Bourbon is the result of a long series of building programmes which led to a magnificent XVth c. fortress, with its vast great hall and 14 towers with bossed facing. Generation on generation, the castle was modified, fortified and embellished up to the XVIth c.
Painted and sculpted decorations from the early XIIIth are still visible today.
Built on a rocky promontory of nearly one hectare, this « family home » has left us with a particularly beautiful ruin.
In the Middle Ages, the burg now known as Bourbon-l'Archambault comes to life at the foot of the castle, which is located at the crossing point of several ancient commercial routes.
A castle emerged on the rocky promontory in the mid Xth century, following a Carolingian castrum. The castle was rebuilt several times and an important work campaign took place late XIIth century. A Philippian castle was built in the rule of Mathilde I and Guy of Dampierre, next of kin to Philippe Auguste.
This was followed by other building programmes in the XIIIth c., by Archambaud VIII (1216-1242) and then in the early XIVth c. under the rule of Louis I, who became the first duke of Bourbon in 1327. By then, the castle already stretched out along the entire promontory.
In the late XIVth c., Louis II, third Duke of Bourbon and the king's Charles V's brother-in-law, engaged in substantial building work at the castle, benefiting hugely from the king's generosity. Work on the second chapel began in 1479 in the rule of Jean II.
These constructions include:
§  the Qui-Qu'en-Grogne Tower,
§  the Amirale tower (where now stands the site's reception/shop),
§  rework on the Old-Hall
§  the increased height of the towers and
§  the fortification of the Old-Bailey to the South (square towers and the New-Hall). 
At last, building work also took place in the XVth c.
© March 2023
---
Louis II is well-known for having taken part in reconquering the kingdom in the reign of Charles V (during the first part of the One Hundred-Year war), for his political role in the reign of Charles VI (he led the Regency Council and was a member of the Uncles' Council), as well as for fortifying or rebuilding his castles and fortresses.
He also ordered the building of a luxury palace at the foot of the Louvre palace in Paris, le Petit-Bourbon, on which he spent a fortune. This marks the beginning of a palatial architecture meant to compete with that of the kings of France and that of the duke's cousins.